elcome to Rectory Quilters. We are a patchwork and quilting group based in New Milton, Hampshire. Our group is not only about the pleasure of sewing, but also the enjoyment of meeting one another and sharing our interest, knowledge and skills.

We also use our love of patchwork and quilting to help others, raising funds for several local charities through a number of different events including our Tea @ Three and previous Quilt, Flower and Music Festivals. We have updated our New page with this information.



Rectory Quilters Quilt, Music and Flower Festival 2023

This summer the group put on a Quilt Festival in the church and hall where we meet. We filled the church with beautiful quilts, all made by group members. This included 3 judged categories plus a general category, enabling everyone to join in whatever their style or experience in quilting.

The displays were enhanced by wonderful flower arrangements, imaginative lighting and additional interest was provided by local musicians who performed at times during the event.

Rosettes were awarded as follows:

Illusion Quilts - 1st Karen Thomas Shadow Quilt, 2nd Liz Gibson Tumbling Blocks, 3rd Jill o' Sullivan Pencils,Highly Commended Annie Hamilton Prayer for Beirut.

Time Passes - 1st Annie Hamilton Colours of the Dawn, 2nd Annie Hamilton Mr. and Mrs. Buckle are Going Out, 3rd Liz Gibson Apple Tree Clock, Highly Commended Jill o' Sullivan Honey and Bees and Ali Lane Rusty Old Car.

Re-cycled - 1st Ali Lane Rucksack, 2nd Sue Brown Shirts Quilt, 3rd Joy Elphinstone Jumpers Quilt, Highly Commended Jill o' Sullivan Denim Garden Set and Zip Cases.

The 2 judges also selected their personal Judge's Choice from the whole show - Liz Gibson La Passacaglia, hanging in front of the altar, and Janet Keith Alphabet Quilt with Dinosaurs by the pulpit..

Lastly the Visitor's Choice - Liz Gibson Lone Star Quilt hanging from the balcony.

Congratulations to all who entered a quilt, and many thanks to the traders in the hall, and to all those behind the scenes who helped make the event possible.

We were delighted to donate £925 to each of our nominated charities, New Forest Basics Bank and Cancer Research UK.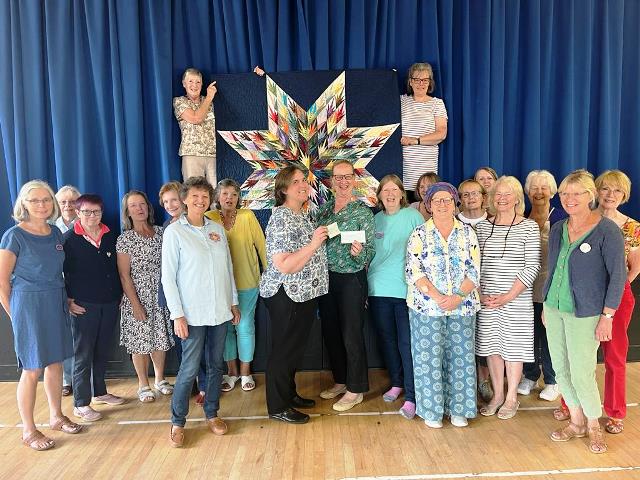 Tea @ Three

Please go to our News Page for the update on the our fund raising for The Projecr Linus.....

We have decided to have a Flickr page to add photos to please go and investigate.... Rectory Quilters Flickr Page


Events page for details of all our forthcoming events.

Rectory Quilters meet on the second Tuesday of the month at 7.00 pm till 9.00 pm, on the third Tuesday at 2.00 pm till 4.00 pm and the fourth Tuesday at 2.00 pm till 4.00 pm.... at St Mary Magdalene's Church Hall, Church Lane, New Milton BH25 6QL. We are a membership organisation and there are currently spaces for new members. If you would like to come as a visitor and meet us please visit our Contact page.




Rectory Quilters are on Facebook! Please visit our page to see more.
History of Rectory Quilters

Rectory Quilters was originally a very small part of the 'Vicarage and Rectory Quilters'. We were mostly mums with young families, all in need of some time to relax, sew and enjoy some good company.

Soon the New Milton group began to grow, and we were invited to meet in the Rectory at St Mary Magdalene's, and then in the church hall. As our numbers gradually increased to 17, it became apparent that it was time for us to form an independent group and Rectory Quilters was established.

The group continued to flourish and, following a successful exhibition in 2003, we doubled our membership to 38 and moved to a larger venue at Our Lady of Lourdes Church Hall.

In 2017 we moved back 'home' to the large hall at St Mary Magdalene Church. We have had 4 more Quilt, Flower and Music Festivals, since our first one in 2003.

We welcome visitors to the group....please email if you would like to come.