ews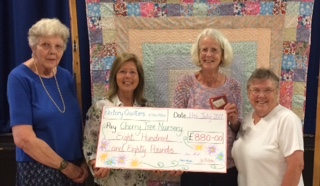 New Updates from 2017

2017 'Tea @ Three' raised £880 for Cherry Tree Nursey (SWOP) Rectory Quilters' tenth 'Tea @ Three' was held in May 2017. This has become a lively and popular event which attracts crowds of supporters year after year.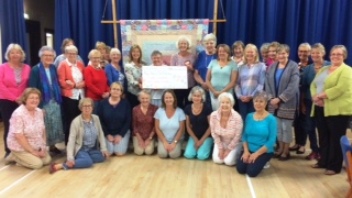 Rectory Quilters at presentation




News of our Raffle Quilt Winner!

At our 2015 Quilt festival, one of the raffle prizes was to have a quilt made 'especially for you'.

The winner could chose colours and fabrics and have a log cabin quilt made for them. The lucky winner was Joan Gunn, already well known to us as the organiser of the wonderful flower arrangements at our festivals and a volunteer worker for the Alzheimer's Society, that we have supported in the past.

Joan had a painting in her sitting room that she had inherited and wanted a quilt to compliment the colour pallet. We took her off to Cherry Tree Fabrics and there she chose a selection of fabrics….which included chickens! These were washed and ironed and cut into strips and made into 'log cabin' blocks. Next, it was how to put the blocks together, as there are many ways of arranging them. Joan chose her preferred way and when assembled, we invited her to join us to help stretch the quilt. It was then hand quilted and bound and presented to her at the 'Tea @ Three'. This year we have the same raffle prize, a quilt made to the winner's specification…..raffle tickets available soon!










Please click on thumbnails to show larger photo.



Jess Williams Quilt

One of the largest quilts we have ever stretched was a beautiful antique hexagon quilt. Pete and Debbie Williams of New Milton, contacted Rectory Quilters to ask for help regarding a quilt top which Pete's late mother, Jess had made. It was very large and made of hexagons, set in the 'Grandmothers Flower Garden' design. Karen Coad took on the challenge. Karen loves old quilts, recycled fabrics and is the 'queen of hexagons'! With the groups help, we stretched it on the quilt frame, one of the largest quilts we have ever stretched...approximately 8' square! Karen then quilted it by hand and bound the edges to finish the quilt perfectly. Pete and Debbie were naturally delighted with the result. A lasting memory of Pete's mum, Jess and all the history behind the fabrics she had carefully collected and sewn into the quilt.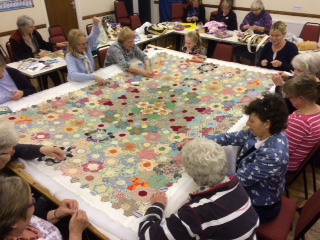 RNLI Christmas Tree 2017


Last December, we took part in a Christmas tree festival at St Alban's church Charminster, Bournemouth. In the past, Rectory Quilters were joined with St Alban's Vicarage Quilters and met there once a month. Sadly the Vicarage quilters are no more but Rectory Quilters have continued and thrived! As we are supporting the RNLI at our festival this year, we decided to have a nautical themed tree. We decorated the 6' tree with handmade yellow wellingtons, orange life belts, blue anchors and little boats. It was topped with a lighthouse complete with a beaming light. Streamers, made of nautical flags and draped like ships rigging completed the look…..and of course two knitted Lifeboat men had pride of place!