inks and Resources
The Quilters Guild of the British Isles
Promoting the craft and heritage of patchwork and quilting in the UK.

Little Patchwork Cottage
Nicky at Little Patchwork Cottage sells a variety of quilting cottons fabrics from brands such as Makower, Lewis and Irene and occasionally American brands such as Michael Miller, Henry Glass and Blank Quilting. She also sells 100% cotton fabrics from the Craft Cotton Company and John Louden, also a selection of Rose and Hubble cotton poplins..

New Forest Fabrics
Here at New Forest Fabrics we stock fabric collections from Art Gallery, Free Spirit, Makower UK, and Michael Miller to name but a few. All fabrics are suitable for patchwork, dressmaking and many other fabric crafts.

Nicola's Crafts
In our online shop you will find designer fabrics from Makower UK, Riley Blake and Red Rooster among others. We also stock a range of fantastic quality wool from King Cole, craft gifts and selected haberdashery items.

Nova Foresta Classical Players
The Nova Foresta Classical Players was founded in 2017 by Philip Daish-Handy and Martin Penrose. Consisting of professional musicians, the Nova Foresta Classical Players specialise in music from the Baroque and Classical Eras. Led by Catalin Chelaru, this exciting ensemble are gaining rapid recognition as a musical force to be reckoned with. 'Nova' not only wish to bring great music to everyone, but to also provide a platform for the young musicians of the future.

Midsomer Quilting
Stocks over 3,000 patchwork and quilting fabrics, books, equipment and accessories. Full programme of classes, and open house every Monday and Friday.

Singer Sewing Centre
18 Whitefield Road, New Milton (no website). Sewing machine sales, after sales service including instruction and backup, sewing machine service and repair, threads and accessories.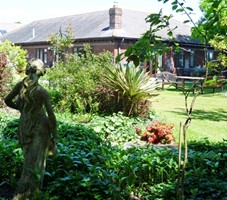 Charities
Project Linus
Project Linus UK is a volunteer organisation. We aim to provide a sense of security and comfort to sick and traumatised babies, children and teenagers through the provision of new home made patchwork quilts and knitted blankets, and give volunteers across the UK the opportunity to contribute to their local community.

Oakhaven Hospice
Provides specialist palliative care and support to those facing life-limiting illness and their loved ones, in both a home and hospice setting.

Alzheimers Society
Working to improve the quality of life of people affected by dementia in England, Wales and Northern Ireland.

Christina Noble Children's Foundation
Programmes for underprivileged children in Vietnam and Mongolia providing protection, access to basic care and educational opportunities.

Cherry Tree Nursey (SWOP)
Cherry Tree Nursery A charity based on horticulture providing meaningful occupation in a supportive environment, aiming to restore well-being to people with mental illness.

New Forest Disability
Providing free, impartial, confidential information and advice to those of any age affected by disability. Related issues include: caring, access, blue badge, welfare benefit applications, volunteering opportunities, equipment, holidays, training, education and transport etc ....throughout the New Forest and surrounding area.