oung Quilters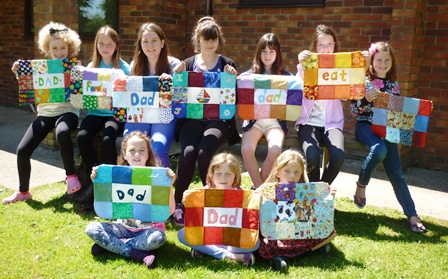 We have a thriving Young Quilters group which has been producing wonderful work for over 14 years. Children who joined us for the very first workshops have since gone on to become university graduates, and parents! We hold regular Young Quilter's workshops, where the children make beautiful gifts, often to coincide with seasonal celebrations including Christmas, Mother's Day, Father's Day, popular bag making, cushions and small projects.

We run the workshops following guidelines set up by the Young Quilters section of 'The Quilters Guild of the British Isles'. Children are encouraged to join the guild and access the very informative YQ webpage. You do not need to be a member to come to the workshops. However, if you do come, you can have free membership for a year, together with a year's free membership to the Embroiderers guild too! Click here The Young Quilters to access The Young Quilters webpage for more information.

For details about local YQ workshops, contact Jill through the Contact page. The Quilters Guild holds competitions for Young Quilters. We are proud to say, Grace Francombe Gibson, a member of our YQ's, won first prize in tthe 12-16 age group, for her work 'A Day at the Seaside'. Her prizes included a trophy, some fabric, rosettes and a special prize of £50!! Well done Grace!